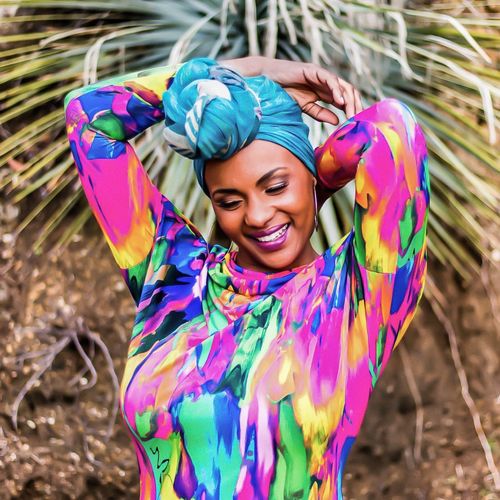 Aretha Scruggs is a unique artist who weaves jazz tones with gospel and R&B stylings to make a sound all her own. She resides in Los Angeles when she's not touring the world.  
Scruggs started singing at age four with her family group: The Scruggs Sisters, containing her three sisters and two parents Melvin and Wanda Scruggs, on accompanying piano and bass. They opened for world renowned artists such as: The Clark Sisters, Commissioned, Yolanda Adams and Vickie Winans (to name a few), and were awarded the prestigious opportunity to sing for historical events like: Rosa Park's 80th Birthday party and the Tuskegee Airmen's Congressional banquet. 
After graduating from UCLA, she along with her twin sister Alayna went on to tour as background singers for Natalie Cole and later, Christina Aguilera and Anita Baker. Whether  television or live shows, she has also supported diva vocal legends  Whitney Houston, Chaka Khan, Patti Labelle, Neo-soul powerhouses Jill Scott, India Arie and pop artists/producers Carrie Underwood, Justin Timberlake, and Pharrell. She has also sung with such gospel greats as, Mary Mary, Kirk Franklin, Israel Houghton, Tye Tribbett, Fred Hammond, Marvin Sapp and Yolanda Adams. 
On Film and Television you can hear her vocals on such projects as: Just Mercy, Harriet Tubman, Trolls 2, Bad Boys 3,The Godfather of Harlem, Euphoria, Respect (Aretha Franklin's Biopic), Genius: Aretha Franklin by National Geographic, and Zoey's Extraordinary Playlist.
Recently, Aretha released her debut jazz EP, called "Seasons" with her first single "Sunsets" seeing its release this month.  The EP includes "Sunsets" an original tune about family, a modernized rendition on a jazz classic "Autumn Leaves" and a jazz take on "Ain't Nobody" a Chaka Khan favorite.  She plans to spend 2023 touring this EP within the U.S and abroad. So sign up below for her "VIP" list to stay in the know about up coming concerts and new music release parties. Don't forget to check out her most recent release of a social justice piece called "I'm Tired" dedicated to George Floyd and the lives lost in the fight for equality and justice for black lives. Also download her debut jazz-gospel inspired EP, "Not of This World", which includes all original music save for one tribute song "Dindi", by Brazilian Grammy Award winning bossanova great, Antonio Carlos Jobim.
You are visitor number: 738